Pri odovzdávaní vodiaceho psa využívame moderné pomôcky
Odovzdávanie vodiaceho psa človeku so zrakovým postihnutím je veľmi náročná časť procesu vzniku kvalitného vodiaceho psa, resp. bezpečne fungujúceho tandemu klienta so svojím vodiacim psom. Klient sa počas odovzdávania učí množstvo nových zručností. Pes musí mať obrovskú dávku trpezlivosti pri častom prerušovaní a opakovaní práce s klientom a teda aj s ním. Inštruktor musí byť neustále sústredený na klienta, ktorému musí správnym spôsobom podávať informácie a aj na psa, aby udržal jeho koncentráciu a nestrácal trpezlivosť. Súčasne musí dohliadať na okolie, aby zabezpečil bezpečnosť všetkých zúčastnených.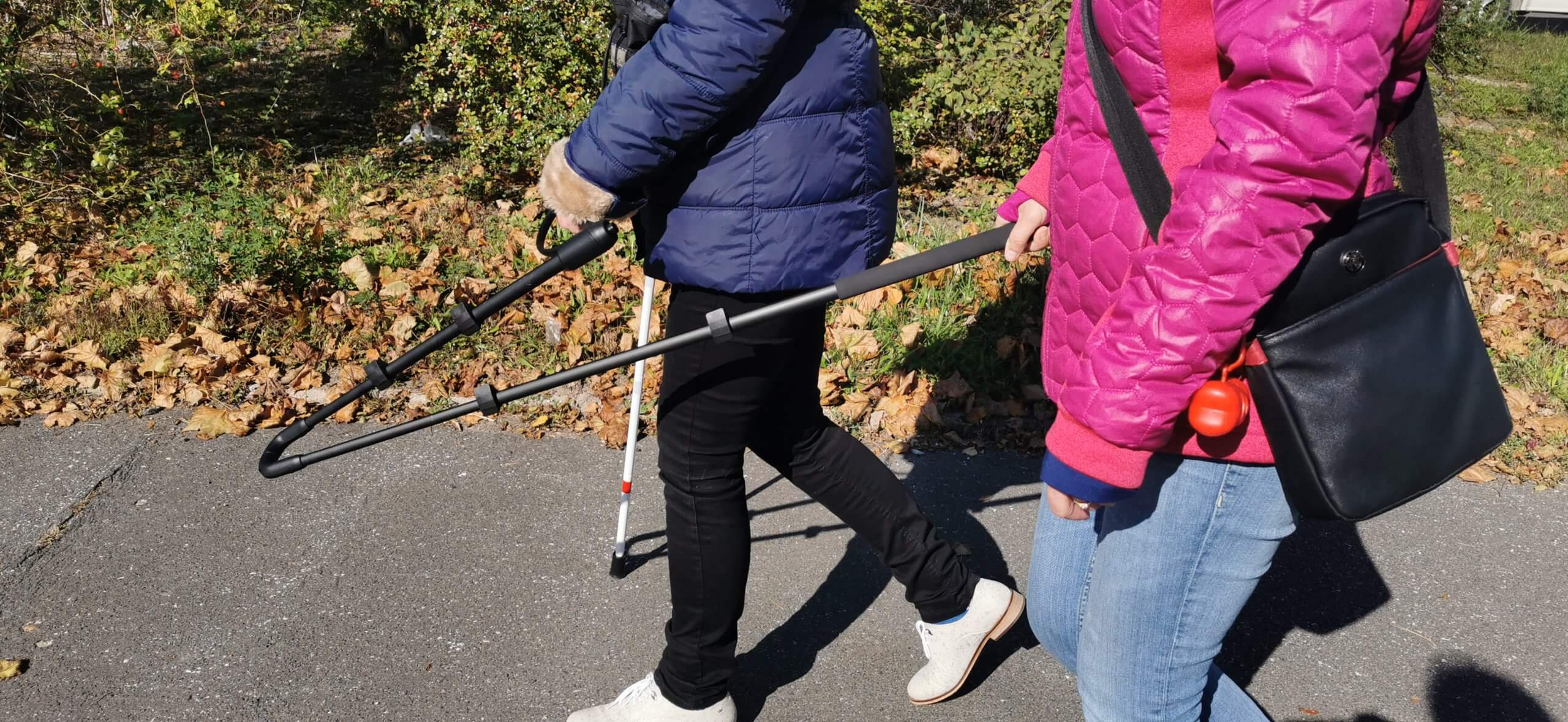 Aby sme eliminovali zaťaženie všetkých troch zúčastnených, používame pri inštruktáži mechanicky simulátor pohybu s vodiacim psom DOGSIM. Dogsim je ľahká, skladateľná pomôcka, ktorá má dve teleskopické rukoväte, ktoré sú spojené pružným kĺbom. Kratšia rukoväť je ukončená ergonomickým držadlom, ktoré sa podobá na vodič postroja vodiaceho psa. Dlhšia rukoväť má tvar bežnej teleskopickej palice a drží ju v ruke inštruktor, kráčajúci za klientom po jeho ľavej strane. Klient sa drží držadla Dogsimu a inštruktor ho vedie a zastavuje na miestach tak, ako by to robil vodiaci pes. Ten môže počas tejto úvodnej inštruktáže doma oddychovať a inštruktor sa môže plne venovať klientovi. Po zácviku s Dogsimom je klient sebaistejší v správnej komunikácii so psom, čim sa urýchli vybudovanie vzťahu a dôvery medzi klientom a psom a následne uľahčí inštruktáž práce so samotným vodiacim psom.
Ako to funguje si môžete pozrieť vo videu o práci DOGSIMom.
Výhody využitia DOGSIMu sú:
skrátenie doby potrebnej na adaptáciu medzi človekom a jeho psom vďaka lepšiemu pochopeniu a predvídaniu reakcií a pohybov psa,
zníženie prípadného stresu majiteľa a psa na začiatku ich spoločného vzťahu tak, aby rýchlo vytvorili nerozlučný tandem,-obmedzenie únavy psa a jeho majiteľa pri ich spoločných tréningoch